While inspecting homes in New Orleans I get to see a vast variety of homes from historic to new. It is amazing the things we find in these older homes. Occasionally there may be several eras of lighting installed within the home.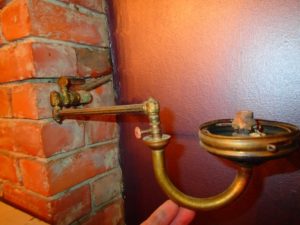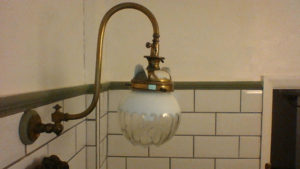 The first picture is of a gas lamp found in a house we inspected. The fixture appears to be upside down based on the photo on the right. The photo on the right is a picture of a bathroom fixture.
As the search continues for safe, effective and cost efficient illumination in houses we will continue to date houses by the fixtures and systems found in them.  Improvements have been made to improve illumination in the home starting with candles, to oil lamps to gas lamps to electric lights, incandescent light bulbs to newer LED bulbs.
Being able to date a house by the types of systems used or were abandoned is why I enjoy what I do so much.
One can't help but have a sense of nostalgia for the time period evoked by a simple lamp fixture.
Written by Turk Schexnayder, licensed home inspector #10679