Galvanized steel piping was commonly used until roughly 1950. This piping typically lasts 40-60 years.  Where it is found today in single family homes, it is usually near the end of its life. The connections are normally threaded at connections. This is a where you will typically see rust first.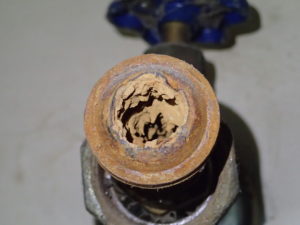 When the pipe corrodes, the rust accumulation inside the pipe chokes down the diameter of the pipe, resulting in poor water pressure. As rust builds up inside the pipe, a brownish color is often noted in the water when a faucet is turned on, especially after several days of inactivity. This rust in the water usually dissipates after a few seconds.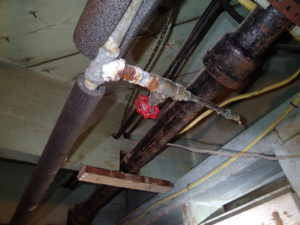 The age is difficult to gauge based on exterior condition as galvanized pipes tend to corrode from the inside-out. Rust also attacks the pipe walls, making the walls thinner. Problems are likely to occur on hot water lines sooner than cold water lines. Eventually, the pipe will rust through, usually at the joints first, resulting in leakage. Steel pipe has threads cut into it where it joins a fitting.
As steel piping corrodes, it may rust through at one spot and begin to leak; however, the rust may form a scab over the leak and the leak may be intermittent as the rust progresses. This scabbing means the pipe is close to the end of its useful life, even though it may not be actively leaking. Poor pressure and flow may be noted before the pipe leaks. The rust inside reduces the diameter, thus restricting flow. When leaks become prevalent or decreased water pressure is noted, it may be time to replace the galvanized supply lines with copper or PEX. Upgrades should be referred to a licensed plumbing contractor for a complete evaluation and written estimates of work needed.